Choose your plug-in integration to quickly and easily start accepting payments online, mobile, and through social media.
For installation instructions, click on the LOGO OF THE SHOPPING CART.
If your preferred shopping cart is not available yet, please reach out to us at livesupport@mojopay.com or call 1-833-633-9127 M-F 8AM-5PM PST. We will let you know when it will be available, or we can provide you a custom development quote.
AVAILABLE SHOPPING CART PLUG INS
SHOPPING CARTS COMING SOON
First before using either method ensure that you have the WooCommerce plugin installed on WordPress.
We try to insure that all images and instructions are accurate and up to date, but WordPress and WooCommerce update their software frequently (and we update ours too). If you notice an error or need help, please contact us.
Download

 

the plugin .zip file to your computer.
Go to your WordPress account dashboard page.
Click Plugins > Add New to upload.
Click Uplod Plugin at the top.
Click Choose file and select the .zip file you downloaded in step 1.
CONFIGURE THE MOJOPAY WOOCOMMERCE PLUGIN
1. Click WooCommerce > Settings.
Click Payments tab.
Click Manage.
Click the Enable MojoPay checkbox.
Ensure MojoPay Sandbox is NOT checked unless you are going to test offline.
Enter your MojoPay secure API token.
Click Save changes when you are done.
After successfully completing the installation, your customers will be able to complete their check-out via your new MojoPay option.
DOWNLOAD THE WOO COMMERCE SUBSCRIPTION PLUG IN
How to use WooCommerce Subscriptions with Mojo Pay
Mojo Pay is now fully integrated with Woo Commerce Subscriptions.
First you will need to purchase and install the Woo Commerce Subscription add on into your Word Press Website.
Second install the plug in found below to allow the plugin to utilize our Mojo Pay Woo Commerce Subscription Plugin. It is important to know you will have both Mojo Pay's Woo Commerce Plugin and the Subscription Plug in installed for a seamless experience. Both of our modules are free and available on this site. Please reach out to support for any questions you may have.
Below are a few of the features you will gain by using Woo Commerce Subscription.
Capture Residual Revenue with Recurring Payments
With WooCommerce Subscriptions, you can create and manage products with recurring payments — payments that will give you residual revenue you can track and count on.
WooCommerce Subscriptions allows you to introduce a variety of subscriptions for physical or virtual products and services. Create product-of-the-month clubs, weekly service subscriptions or even yearly software billing packages. Add sign-up fees, offer free trials, or set expiration periods.
A subscription-based model will allow you to capture more residual revenue — and all you have to do is ship the orders.
Free Trials & Sign-Up Fees
Charge an initial amount to account for customer setup costs, or allow customers to try before they buy, by adding sign-up fees and free trials to any subscription product.
Subscription Management

Store owners get full-featured subscription management via the WooCommerce > Edit Subscription administration screen. You can suspend or cancel a subscription, change the trial expiration, add items, shipping, fees or taxes to the subscription or modify the recurring total for future payments.
Synchronized Payments
If you only want ship on certain days of the month, or align all customers to the same annual membership term, you can with WooCommerce Subscriptions' renewal synchronization feature. You can even prorate the first payment of a synchronized subscription purchase.
Flexible Product Options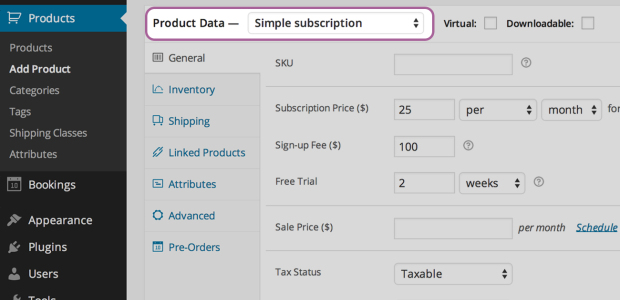 When creating a subscription product, you can make the product downloadable, virtual or physical, charge renewal payments weekly, monthly or annually, limit the product to one-per-customer and even charge shipping only on the initial order.
Subscription Coupons

Offer customers a discount on their monthly payments or just the sign-up fee. Subscriptions includes both recurring discount coupons and sign-up fee coupons.
Variable Subscriptions

Create variable subscription products and allow your customers to choose a subscription that suits their needs. You can even allow customers to choose their own billing schedule.
Subscriber Account Management

Your customers can also manage their own subscriptions. With the My Account > View Subscription page, subscribers can suspend or cancel a subscription, change the shipping address or payment method for future renewals and upgrade or downgrade their subscription.
Upgrades/Downgrades

Allow customers to upgrade, downgrade or cross-grade between different subscription products. With flexible proration options for the recurring amount, sign-up fee and length, you can also customize the costs of switching to a new subscription product to suit the needs of your store.
Multiple Subscriptions

MAGENTO INTEGRATION
HOW TO INSTALL A PLUG-IN
Please first read the complete instructions before following the directions to install and activate your new Magento plugin/extension:
The first step when installing a Magento extension is to unzip the folder where the extension is stored, and to copy the app folder into your store root directory using your FTP.
Next, go to your Magento admin panel, and take the following 3 steps to make sure the installation is completed correctly:

Verify that you have a current backup of your site or create one by going into system > tools > backup, in case anything goes wrong during the installation process.
Disable compilations via system > tools > compilations. Clear the cache by going into system > cache management. Select all the files in the list, choose the
refresh option from the dropdown menu, and finally click submit.
Next, log out of your admin panel, and log back in again!

Activate the Extension: Go to system > configuration. If the activation requires a license key, click on licenses on the left bar and enter your license key next to the extension name, which should appear in the list of recently installed extensions. License keys are provided by the extension developers when they are purchased. They are different from product keys, which are normally provided with free extensions on Magento Connect. After entering your license key, click on save config and wait to see an approval message confirming that the extension was installed and activated successfully.
CONFIRM INSTALLATION AND ACTIVATION
To make sure the installation was completed correctly, go to advanced > developer. Under disable modules output, check that your newly installed extension appears in the list. If it does, your installation was completed successfully, and you are ready to accept payments via the MojoPay payment option! Now find the extension settings and start configuring them according to your preferences.
PRESTASHOP INTEGRATION
HOW TO INSTALL A PLUG-IN
Please first read the complete instructions before following the directions to install and activate your new PrestaShop plugin/extension:
You start the installation process by downloading a module from the PrestaShop Addons Marketplace online, to install it on your PrestaShop site.
There are two ways to install a module:
Using the dedicated form.
Using your FTP client.
INSTALLATION USING THE DEDICATED FORM
To install a new PrestaShop module "automatically", click on the "add a module from my computer" link at the top of the list of modules. This will reveal a new section.
Two options are presented in the "add a new module" section:
Add a module from a web server: simply point the URL to its online zip file, and validate.
Add a module from your computer: browse to the module's zip file that you downloaded, and validate.
In both cases, you must point to the module's zip archive, and not its folder or any of its unpacked files. Once validated, PrestaShop will load the module (either from the web or from your computer), unpack it, place the files in the correct location, and update the page.
INSTALLATION USING AN FTP CLIENT
To install a new PrestaShop module manually:
Unzip (decompress) the module archive file (.zip). This should result in a new folder.
Using your FTP client, place the folder into your PrestaShop / modules folder. Pay attention NOT to upload that folder into another module's folder (this can happen easily when drag-and-dropping items). Upload the whole folder, not just the files it contains.
Go to your back-office, in the "modules" tab.
Locate the new module in the modules list. You might have to scroll down. Alternatively you can also use the list's search function, which will provide a dynamically updated list of matching module names.
In the row listing the new module, click the "install" button.
Your module is now installed and should be activated, as indicated with a green checkmark. If necessary, click on the module's "configure" link. Please notice and consider any warning messages that might be displayed by PrestaShop.
Once configuration is complete, be sure to test the module immediately to confirm that it works correctly.
OPENCART INTEGRATION
HOW TO INSTALL A PLUG-IN
Please first read the complete instructions before following the directions to install and activate your new Open Cart plugin/extension:
To install the Open Cart MojoPay plug-in, log into your store admin panel.
1.Navigate to extensions > extension installer.

2.Click on the upload button. A dialog box should open.
 
3.Locate the installation folder for the MojoPay extension you are going to install and select it. Select the necessary .zip file and click "OK".
After clicking "OK" your extension will be uploaded and a "success" message should appear.
Now your module should be visible in extensions > modules. After locating the module in the module list, just click the install button (" + " sign).
To apply the changes, go to extensions > modules and click the refresh icon in the upper right corner of the page.
OSCOMMERCE INTEGRATION
HOW TO INSTALL A PLUG-IN
Please first read the complete instructions before following the directions to install and activate your new OS Commerce plugin/extension:
Go to your OS Commerce account dashboard downloads page.
Click the download icon to download the plugin.zip file to your computer.
STEP 1- LOCATE THE MODULES TAB

Open your OS Commerce admin portal.
Locate the modules tab as shown on the right.
Click on the modules tab.
STEP 2 – LOCATE THE PAYMENTS SECTION

Scroll to the payments section in modules using your mouse.
Click on the payments section.
STEP 3 – INSTALLING THE MODULE

Locate the MojoPay module you just installed.Click on the MojoPay module, and a box will appear on the right as shown below.Click on install module, unless module is already displayed (IF MODULE IS ALREADY DISPLAYED, DO NOTHING AND SKIP THIS STEP).Click the edit button on the right next to the module.
STEP 4 – SETTINGS

Set the selector for "do you want to accept MojoPay payments" to true.
Enter your secure API token (it can be found in the integration section of your MojoPay account).
Set order status to default.
Set review order status to default.
Set transaction order status to default.
Set a payment time zone (select the time zone of your location).
When you are ready, set the transaction mode to production. If you are testing, set transaction mode to development.
PLEASE NOTE THAT NO TRANSACTIONS WILL PROCESS WHEN YOU ARE IN DEVELOPMENT MODE.
Set order of display to 1 (if not already completed).
Click Save.
STEP 5 – TEST
Please test your OS Commerce module integration after completing the installation. To test, we recommend creating a product for $1 and completing the checkout process in production mode. After completing the sale, please log into your MojoPay account to verify that the transaction is posted and accurately includes all information that you provided during the checkout process.
XCART INTEGRATION
HOW TO INSTALL A PLUG-IN
In order to install Mojopay XCart plugin, please download the module by click on the icon on the right of this and follow the described steps below.
Sign in to your X-Cart administration area.
Go to "Modules" section and press "Upload add-on button.
Upload add-on pop-up will appear where you should choose file and install it by clicking "Install add-on" button
1.When the module is installed you will see it in "Recently installed Modules"
1. To activate an installed module:In your store's Admin area, click Modules to go to the Installed Modules section:In this section, find the module that needs to be activated
Select the Enabled checkbox below its name:
Click the Save changes button at the bottom of the screen. This starts the activation process which may take a while to complete. After it is finished, the module will be activated in your store and ready to use.